Clevon (NASDAQ: CLEV.RG) a global autonomous delivery innovator founded in Estonia, marks the end of a successful year with growing business momentum and celebrates company milestones achieved in 2022. To kickstart 2023, Clevon will be debuting the CLEVON 1 teleoperation control station at CES, booth number 60907 at Eureka Park.  
"I am incredibly proud of the Clevon team and our many business achievements and growth this year,"  said Sander Sebastian Agur, chief executive officer of Clevon. "Every day we continue to harness our passion and drive to make our vision to deliver the promise of autonomous delivery technologies today a reality.   As we continue to build upon the over 12,000 miles our robot carriers have driven on public roads globally, we are proving that safe and efficient autonomous delivery isn't a technology of tomorrow – it's here, happening today." 
"Through partnerships and collaboration with our customers, we are changing the last mile delivery ecosystem and enabling innovative automation and robotics technologies to make life better for people and our planet," continued Agur.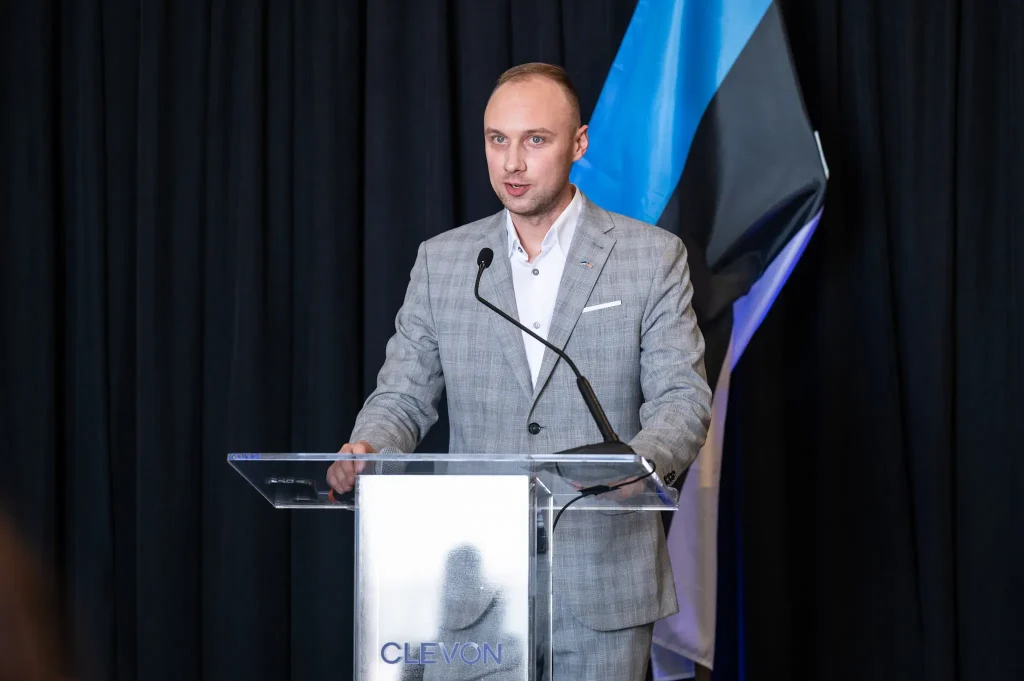 Clevon celebrates several key accomplishments this year including:
Autonomous Delivery Technology Innovation

—  In May, Clevon introduced its third-generation autonomous robot carrier CLEVON 1. The multi-platform all-electric robot carrier features the combination of fast service area mapping, telesupervision and autonomous driving capabilities that enables CLEVON 1 to be deployed in new service areas in a very efficient way. 

Clevon's unique combination of teleoperation oversight, cameras, and radar allow mapping to be completed real-time while the vehicles are being deployed. This allows a fleet of CLEVON 1s to quickly enter and map a new geographic area while delivering service to customers immediately. 

The new robot carrier becomes the first in Europe to offer autonomous delivery services, starting with DPD (part of LaPoste).   
New Customer and Partner Collaborations

– Growing its customer ecosystem in 2022, Clevon has begun working with DHL Express Estonia in Tallinn, Colruyt Group in Belgium and IKI stores in Vilnius, Lithuania.  In the U.S., Clevon performed its first North American autonomous delivery with

CLEVON 1

at the AllianceTexas Mobility Innovation Zone (MIZ) in Fort Worth.  In partnership with the city of Arlington, TX, Clevon also delivered over 100 meals in under two hours using robot carrier.  In the second half of 2022, Clevon also completed a proof of concept with one of the nation's largest retailers. 
Nasdaq First North Baltic Listing

— In 2022, Clevon listed on the Tallinn First North MTF  (

ISIN number EE3100096884,

CLEV.RG) after spinning off from

Cleveron

, the innovation leader in robotic click and collect solutions.
Global Expansion to North America

– This past fall, Clevon expanded its global operations to North America with the opening of its Center of Excellence and U.S. headquarters in the Dallas-Fort Worth Metroplex at the AllianceTexas Mobility Innovation Zone (MIZ). 

President of the Republic of Estonia Alar Karis,

Brandom Gengelbach, President and CEO of the Fort Worth Chamber of Commerce

and

Ross Perot, Jr., Chairman for The Perot Group and Hillwood joined Clevon

at the Company's opening commemoration.
Clevon also expanded its U.S. team with the appointment of Nathan Ray as chief business development officer. Nathan joined Clevon with over sixteen years in operational and strategic roles with companies like Albertson's, HelloFresh, Amazon, and Target. 

Clevon's business milestones and growing momentum comes as the pressure from businesses and consumers to offer on-demand, same-day or next-day delivery of goods continues to skyrocket. Clevon's driverless robot carriers shall drive on public roads and enable the transportation of goods to be more energy-efficient, cost-effective and scalable. Clevon's carriers have been tested on public roads in Europe for over two years and is proven to be safe and reliable. The robot carriers are  environmentally focused with zero CO2 emissions and reduce last-mile delivery labor costs by up to 90%.  
"We expect 2023 to be a dynamic year for the autonomous vehicle industry. The market appears ripe to expand and contract significantly as new companies throw their hat into the ring to meet huge customer demand, and yet others fold due to their inability to navigate the technological innovation and regulatory landscapes," continued Agur. 

"The ability to get approval on public roads and safely and effectively demonstrate solution  value will be what separates successful companies from the ones that fade.  Customers will quickly learn that it is one thing to say you can do something autonomously; it is another to actually have a vehicle on the road doing it." 
Agur concluded, "Clevon is very well positioned to emerge as a leader in the autonomous delivery industry, and we have a promising year ahead of us.  Clevon is the only company in its class in Europe, achieving in eight months what took global competitors four years to achieve.  And, most importantly, we are making autonomous delivery happen today all over the world."
ABOUT CLEVON
Clevon introduced the next-generation autonomous robot carrier, the CLEVON 1 as the first autonomous robot carrier in Europe to offer autonomous delivery services on public roads, starting with DPD (part of LaPoste) and most recently working with customers including DHL Express Estonia in Tallinn, Colruyt Group in Belgium and IKI stores in Vilnius, Lithuania delivering groceries. On-demand delivery industries like grocery retailers, food and beverage businesses and logistics providers partner with Clevon for safe, reliable and customizable delivery solutions that are environmentally focused – all backed by a proven track record of 15 years experience in robotics and automation technologies. In 2022, Clevon listed on the Tallinn First North MTF  (ISIN number EE3100096884, CLEV.RG) after spinning off from Cleveron, the innovation leader in robotic click and collect solutions.