Clevon, KFC Estonia, and Fudy proved on Thursday in Tallinn that fast delivery of restaurant-ordered food to the customer is a vision of the future and a reality in Estonia. On Thursday, a test day was conducted at KFC Tondi restaurant in Tallinn, where meals ordered through the Fudy app were delivered to customers by Clevon's robot carrier. The food collected from KFC reached happy customers quickly, conveniently, and effortlessly.  
The test day was the first such action undertaken in Estonia. Clevon, which develops autonomous delivery technology, has focused mainly on home delivery of parcels and grocery store orders, working with DPD, DHL Express Estonia, and IKI supermarkets.   
Until now, KFC Estonia's orders have been delivered to customers solely by human couriers from Fudy. However, the three companies believe that automation is the future of food delivery. Together, they discovered that all the necessary capabilities for future home delivery are already available in Estonia. As a result, they decided to try whether a robot carrier could also be utilised for fulfilling restaurant orders.  
Clevon's CEO, Sander Sebastian Agur, was satisfied with the results of the test project," The future has arrived, so we are excited to partner up with KFC and Fudy to test on demand autonomous delivery by Clevon. Now consumers had an excellent opportunity to place orders in a flash and get them delivered by the most efficient self-driving carrier for our shared vision for a sustainable future."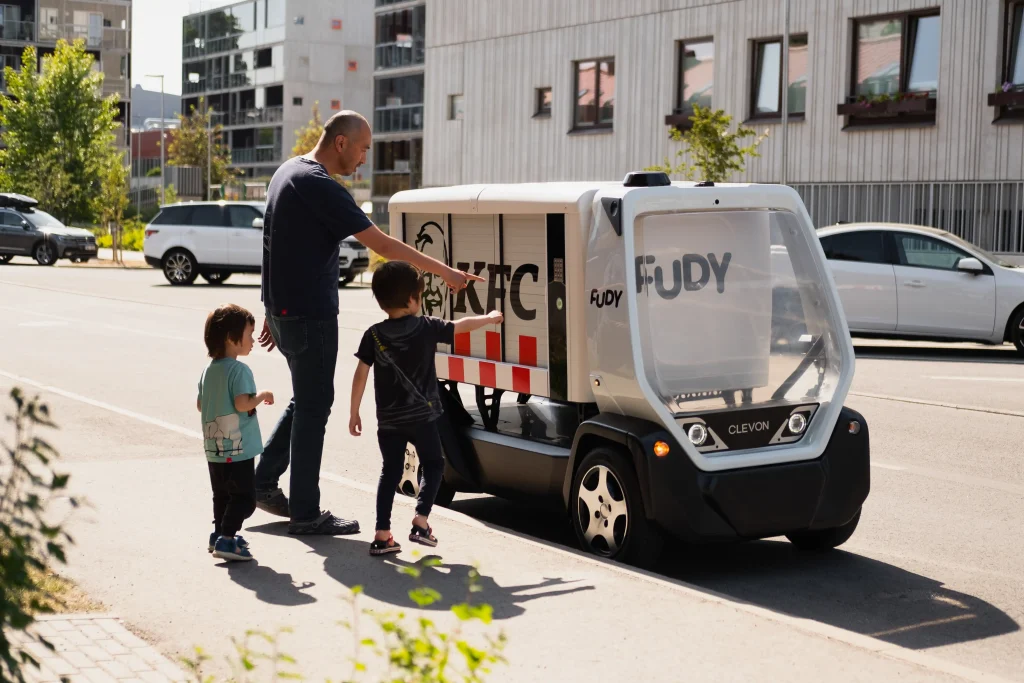 According to Anett Kutti, the Marketing Manager of KFC Baltics, KFC is pleased to be part of such an innovative project. "Based on global trends, we wanted to explore the readiness of local customers in a situation where food is delivered not by a food courier but by artificial intelligence. It was a joy to see that the customers showed great interest in the test day, and their feedback exceeded our expectations," Kutti rejoices.  
Against rising living costs, food and services are becoming more expensive, and food delivery is not exempt from this trend. Additionally, Estonia has a growing concern regarding labour shortages as restaurants and delivery companies struggle to find workers. Partial automation of home delivery would help alleviate the labour crisis and optimise costs. Clevon's robot  does not require a driver for food delivery and can navigate through traffic on public roads alongside other vehicles, eliminating the need for a separate courier for the service provision.  
The robot-assisted food delivery on Thursday went smoothly and demonstrated that autonomous home delivery could already become a reality. The process was familiar to restaurant employees, who placed the order in the robot csrrier's slots instead of handing it to a human courier. Customers who placed their orders through Fudy received a confirmation PIN code, which they used to open the robot courier's door and retrieve their food. The customers who received their orders via the robot on Thursday were pleasantly surprised and delighted by the unique experience.  
About Clevon  
Clevon introduced the next-generation autonomous robot carrier, the CLEVON 1, that offers delivery services on European public roads, starting with DPD (part of LaPoste) and most recently working with customers including DHL Express Estonia in Tallinn, Colruyt Group in Belgium and IKI stores in Vilnius, Lithuania. On-demand delivery industries like grocery retailers, ready-food and beverage businesses, various general merchandise retail companies and logistics providers partner with Clevon for safe, reliable and customisable delivery solutions that are environmentally focused and affordable – all backed by a proven track record of 15 years of experience in robotics and automation technologies. In 2022, Clevon was founded after spinning off from Cleveron, the innovation leader in robotic click-and-collect solutions.  
About KFC  
KFC Estonia is part of the world-renowned KFC restaurant chain. There are 27 KFC restaurants in the Baltic States and Finland, with nine in Estonia (Tallinn, Tartu, Jõhvi and Narva). KFC Estonia is owned by the Apollo Group, an entertainment conglomerate in the Baltic States owned by the Estonian capital. The Apollo Group operates Apollo stores, Apollo cinemas, KFC restaurants, O'Leary's entertainment centres, Vapiano restaurants, Blender juice bars, IceCafe ice cream cafes, and the film distribution company Baltic Film Distribution.  
About Fudy  
Fudy is an Estonian food tech startup focused on bringing foodies and restaurants together through an intelligent order management platform. Fudy launched as a food delivery platform in Estonia in 2022 and today is the exclusive partner of some of the most popular restaurant brands in the country, such as KFC, Vapiano and Hesburger.