Clevon, a global autonomous delivery innovator founded in Estonia, the Ministry of Investment of Saudi Arabia (MISA), and Rigel Capital have joined forces to support the expansion of Clevon's innovative last-mile autonomous technology in the Kingdom of Saudi Arabia (KSA).
To do so, the parties signed a Memorandum of Understanding (MoU) outlining their intentions to launch operations, establish production, and create a branch of Clevon Academy in the Kingdom. This MoU represents a significant milestone in Clevon's growth as KSA and the wider GCC region offer significant opportunities for autonomous technologies.
Through this collaboration, Clevon aims to transform the logistics sector, create job opportunities, and contribute to Saudi Arabia's Vision 2030 goals. Clevon's cutting-edge self-driving technology, powered by artificial intelligence, will enable more efficient and sustainable last-mile deliveries, positioning the company at the forefront of the booming eCommerce and logistics market in the GCC.
The first steps to bring the autonomous technology on Saudi-Arabian roads have already been done through a weeklong demonstration of its technology in Riyadh.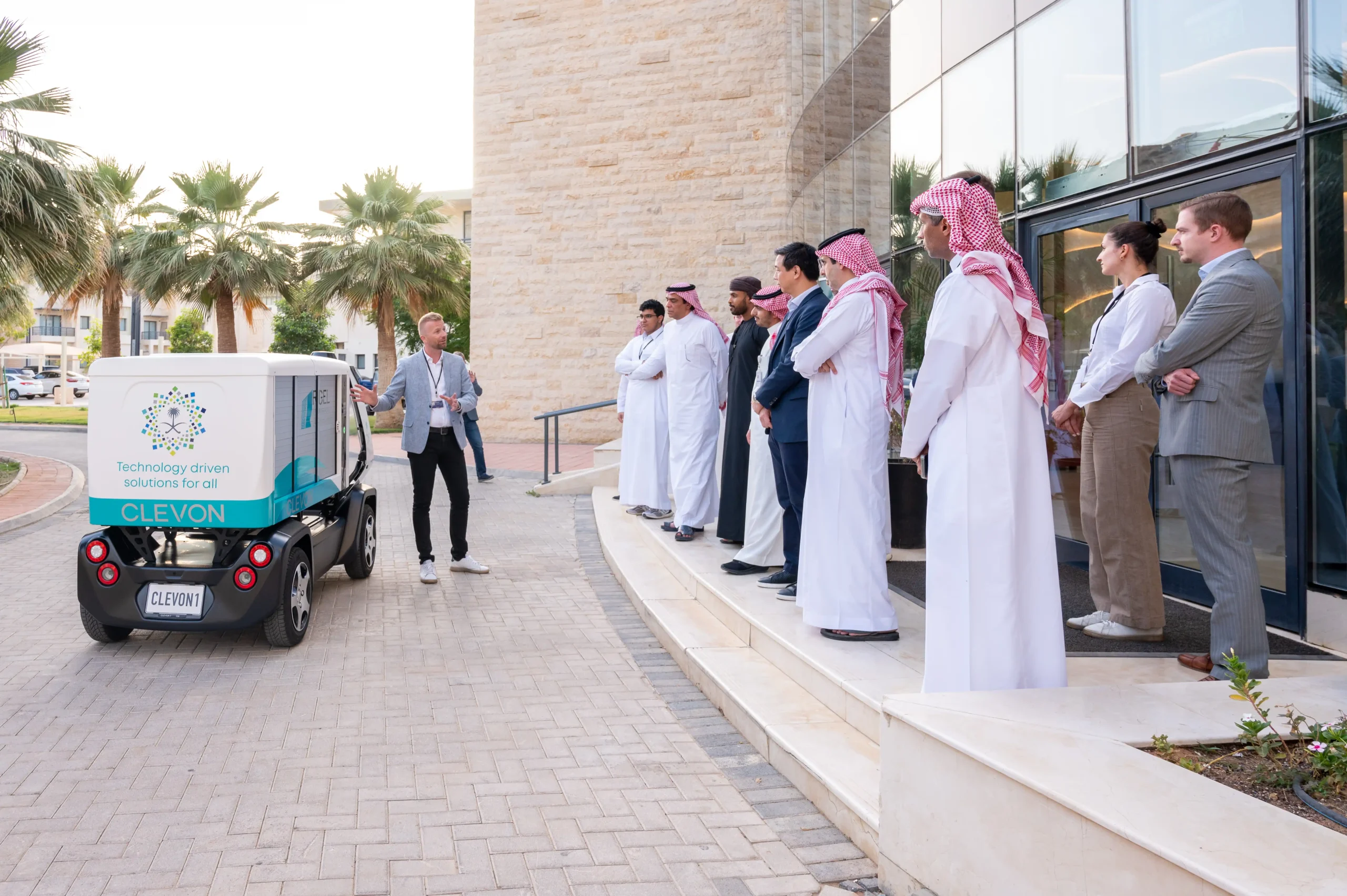 Sander Sebastian Agur, CEO of Clevon, expressed his enthusiasm for the partnership: "We are thrilled to partner with the Ministry of Investment of Saudi Arabia and Rigel Capital with the ambition to expand our last-mile autonomous technology in the Kingdom. As a major logistics hub for the GCC, Saudi Arabia has the potential to become an important market for Clevon and a significant addition to our operating centres in the US and Europe. Together, we will drive innovation, educational programs and sustainable growth in the kingdom."
The Ministry of Investment of Saudi Arabia, a key partner in this transformative venture, is dedicated to creating a vibrant investment ecosystem and streamlining business operations for local and international entities. This MoU attributes to complement the efforts made in the adoption of emerging and future technologies in the field of autonomous mobile robots, which will contribute to the development of Last Mile Delivery services, quality of life, and the enablement of smart cities.
Rigel Capital will play a crucial role in supporting Clevon's endeavours in Saudi Arabia and scaling the technology in the region. The investment company, which focuses on technology investments in the emerging economies of Southeast Asia, the Middle East and India, aims to support Clevon to localize its technology to KSA. Rigel Capital's extensive experience in logistics, new technologies and fund management ideally positions the investment firm as value-adding partner for this venture.
Wail Al-Sabbali, Venture Partner at Rigel Capital mentions: "This is an opportunity in which different parties get together with a united mission to localize the deployment of advanced last-mile technology that will put the Kingdom at the global centerstage of technological Innovation."
Sebastian Togelang, Founding Partner at Rigel Capital comments: "This is a milestone for Rigel Capital's Vision in Emerging Asia. Saudi-Arabia constitutes an essential component in the growth and ambitions of Rigel Capital. We are pleased to bring such innovative and sustainable technology to KSA. Going forward, we will continue looking out for additional opportunities to invest in and partner with technologies in Electric Mobility, Climate Technology, Autonomous Vehicles, AI-Enabled Retail Solutions, Supply Chain, Logistics, and more industries across KSA and the Middle East."
About Clevon
Clevon introduced the next-generation autonomous robot carrier, the ARC, as the first autonomous robot carrier in Europe to offer autonomous delivery services on public roads, starting with DPD (part of LaPoste) and most recently working with customers including DHL Express Estonia in Tallinn, Colruyt Group in Belgium and IKI stores in Vilnius, Lithuania delivering groceries. On-demand delivery industries like grocery retailers, food and beverage businesses, and logistics providers partner with Clevon for safe, reliable, and customizable delivery solutions that are environmentally focused — all backed by a proven track record of 15 years experience in robotics and automation technologies. In 2022, Clevon was founded after spinning off from Cleveron, the innovation leader in robotic click-and-collect solutions.
About Rigel Capital
Rigel Capital (https://rigelcapital.com/) is an investment firm that provides capital to rapidly growing companies, focusing on the emerging economies in Southeast Asia, the Middle East and India. The company has supported numerous technology investments in those regions with a strong track record in Logistics, Supply Chain and Electric Vehicles. In those areas, the company has created one of the largest and profitable technology ecosystems in Southeast Asia with more than US$1.3 Billion in revenue (2022), 50,000 jobs created, 360 million packages delivered, and 15,000 tons of carbon emissions saved. Rigel Capitals' team consists of investors, operators, and legal experts with a track record of 8 unicorns created, US$770 million in funds raised and 5 exits generated. Past funds managed by the partners were ranked #1 according to fund management platform Preqin. Rigel Capital, headquartered in Singapore, actively invests in early- and growth-stage technology companies and is present in Southeast Asia, Saudi Arabia, and India.
About Ministry of Investment of Saudi Arabia
MISA (https://misa.gov.sa/en/) partners with local and international businesses of all scales and sizes—from startups to blue-chip multinationals—to help make investing in the Kingdom as streamlined and straightforward as possible. They are also developing a vibrant cross-government investment ecosystem while supporting businesses throughout their investment journey. MISA also leads in improving Saudi Arabia's overall business environment.