The City of Tallinn and Clevon sign a cooperation agreement that will allow the company, which develops unmanned robotic couriers, to provide parcel delivery services in the Old Town
Deputy Mayor Tanel Kiik noted that one of Tallinn's goals as the European Green Capital 2023 is to develop carbon-neutral mobility in urban space. "Tallinn's Old Town is a UNESCO heritage site but also an active business location and an attractive tourist destination. Old Town is also a place where people live. It therefore makes sense to use innovative mobility solutions to serve its institutions, businesses and residents. The robotic courier is an all-electric, noise- and emission-free means of transport, making it a safer and more environmentally friendly way of delivering goods in the narrow streets of the Old Town compared to conventional motor vehicles," explained Kiik. "We will enter into a cooperation agreement for two months, during which time a pilot project will be carried out to gain experience and see if the use of robotic couriers in the Old Town justifies itself."
Clevon is developing the multifunctional unmanned vehicles named CLEVON 1, which will help to make the delivery of goods more environmentally friendly, customer friendly, faster and cheaper. The robotic courier provides a noise-free parcel delivery service, while ensuring pedestrian safety and passability.
Arno Kütt, the founder of Clevon, believes that the cooperation agreement is an important step towards the implementation of environmentally smart solutions. "If we want to improve the quality of life in the center of Tallinn, full-electric vehicles such as CLEVON 1 are one of the possible solutions to help reduce pollution in the area." Kütt confirmed that one of the aims of the pilot project, together with partner DHL Express Estonia, is also to demonstrate the necessity and benefits of the new courier solution for the Old Town area.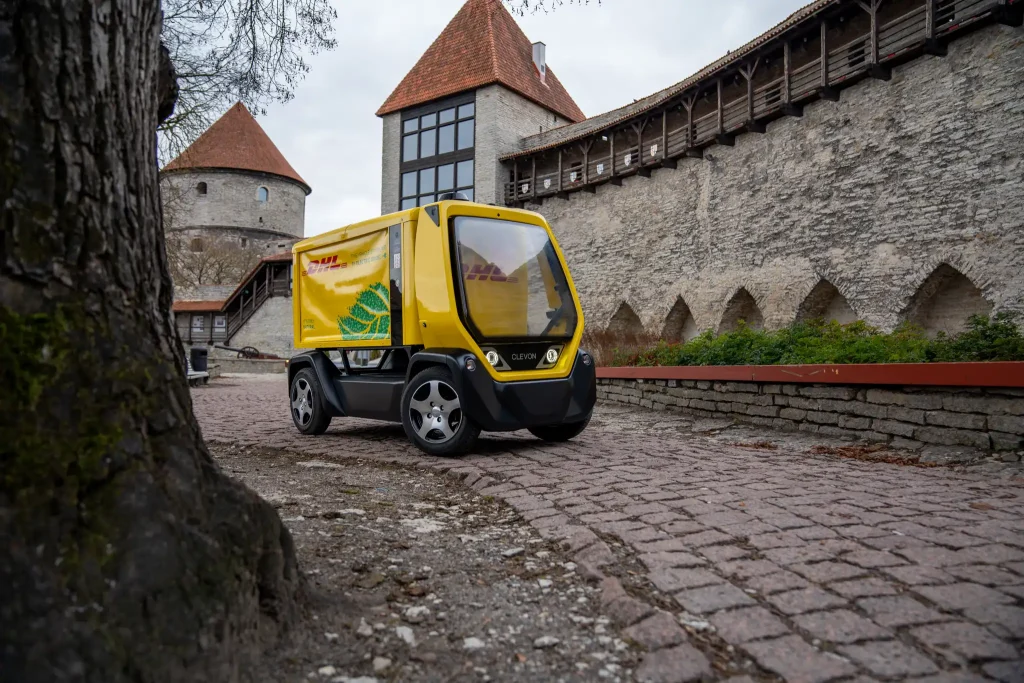 Under the cooperation agreement, the city will allow Clevon to use robot couriers to deliver goods to institutions and businesses in the pedestrian area of Tallinn's Old Town. As the robotic couriers are remote-controlled vehicles and there is not yet enough data on their use in heavy traffic, Clevon's robotic couriers will be allowed to operate outside the service hours of the Old Town, for example. between 6 am to 10 am. Clevon undertakes to comply with traffic law requirements and to use no more than one robot courier at a time.
The CLEVON 1 robot courier built by Clevon has small dimensions (width 1.15 m, height 1.55 m and length 2.5 m) and is light (470 kg). To ensure the safety of other road users, including pedestrians, the machine is equipped with six cameras that provide a 360-degree view of the vehicle.
At today's meeting, the city government approved the draft cooperation agreement to be signed and authorized. Andres Harjo, Head of Tallinn Transport, will sign the agreement on behalf of the city.